Sharing Machine is an awesome site. I've...invested plenty of time there simply for their comic Married to the Sea. It seems like a general "hip" shirts, art...and free online comics site. Some of the shirts are cool enough and I would recommend them.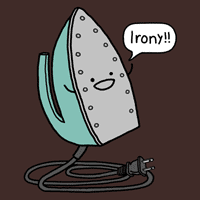 They definitely have better ones than this.
Check them out
HERE
.
The shirts, though, are not why I spend so much of my time there. They have a few comics on their site.
Natalie Dee
: same as below, but only with color.
Toothpaste for Dinner
: Standard stick-figure style one to three panel comics.
Superpoop
: a pretty good photo comic section. They claim it's only "occasionally updated."
I put them above in the order in which I'd rank them, from least enjoyable to most enjoyable. I've left the best for last:
Married to the Sea. It's hard to describe, and as they say. I think I'll leave it to the pictures.
I can't say what it is about this quirky style, but it's great and more often than not, it's worth a laugh.
Check out
Married to the Sea
. It randomly generates comics, but it seems to have an archive to the right of the comics.